Profile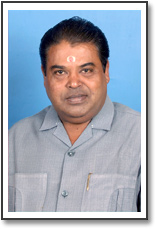 Shri. K.R. Krishnamurthy was born in Tuticorin district in Tamil Nadu, India which is well known for its heritage and culture. From a very young age, while pursuing his studies in school and college, he had very keen interest in vedic astrology since his paternal grandfather and uncle were well known astrologers. Hence from a very tender age of 15 years he started learning the various aspects of vedic astrology from his grandfather and uncle. Later he started learning vedic astrology from a highly acclaimed astrologer Shri Alagesan Mudaliar who initiated Shri. K.R. Krishnamurthy to the various nuances of vedic astrology.
Besides, learning the various sholkas in Sanskrit and in Tamil, he took keen interest in the subject of astrology and read a lot of books to gain more insight. With the help of his "guru" he started interpreting the horoscope or the birthchart*.

Later Shri Krishnamurthy shifted to Madras ( now known as Chennai ) in Tamil Nadu where he met and learnt more on vedic astrology from a very well known grandmaster of astrology by the name of Shri Kalayanaraman Iyengar, who was a scholar and a very erudite practitioner of vedic astrology and has won several recognition and accolades. Under the tutelage of Shri Iyengar, he mastered the art and the science of interpretation of horoscope and gained immense mastery and proficiency.
Shri Krishnamurthy has a total of 30 years of experience in reading, interpretation and predicting based on ancient system of vedic astrology as taught by the rishis to generations. His forte is that he does not prescribe costly pujas or birthstones as normally practitioners of astrology do. His approach is unorthodox and devoid of any ambiguities. He guides people for the do's and dont's based on the natal chart.
Example : Particular line of business will be highly beneficial to an individual based on his / her natal chart.
Shri Krishnamurthy's approach is practical and relevant in today's time. He will guide you through the good and bad period of life where one can take precautionary measures to tide over the uncharted part of their lives.
Over the years, Shri Krishnamurthy has predicted to several businessmen and professionals across the globe and his clients include people from all walks of life who have immensely benefited from his honest predictions.
Shri Krishnamurthy currently resides at Mumbai for the past 18 years along with his family consisting of his wife, one son and two daughters.
* Horoscope are casted based on the exact planetary position determined by exact date , time and place of birth